Welcome to Video Trader
Video Trader has been an established and trusted locally owned and operated video game store in Heath, Ohio for over ten years now. Conveniently located behind Stacey's Buffet near the Indian Mound Mall, we pride ourselves in being the communities best video game store for not only our prices and selection, but for personal service. With thousands of uniques titles in stock, you're sure to find a game you can enjoy from classic Atari and NES, to Playstation 2 and Xbox. We deal with just about everything video games and We always strive to give you the best value for your used video games, music cd's, and DVD's. Our friendly, knowledgable staff is always here to assist you and our inventory is constantly changing so stop in and let us help you find what you're looking for today.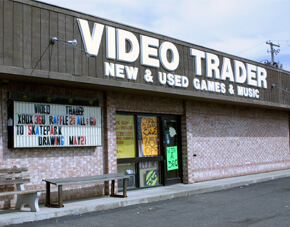 25%-50% OFF SALE!!
Used video games and dvd's are currently 25%-50% off the marked price for all cash, check, credit card transactions. It's our way of saying thank you for your support. Note: Does not include any trade transactions, new games, or game systems and is at our discression.